While visiting a dear friend during a recent layover in St. Louis, we stepped into a Sephora to look around. I was telling her about my shameful Beauty Bank balance when she said, "I think it's interesting that you've spent that much here. You don't wear a ton of makeup." I wasn't offended. She knows me well. I'm pretty natural and neutral makeup-wise. In other words, I'm the Switzerland of makeup application. We make lovely watches, no? I like my daily routine to be simple, quick, and chic. Even when I experiment or get dolled up, I want the results to be attainable yet polished. Cat eye? I use a liquid eyeliner pen. Fancy eyeshadow applications? I use highly pigmented baked trios so the colors are all in one place and offer good coverage. You get the point. So I thought I'd share some of my tried and true favorites. Plus, if I'm recommending them, you know they are simple to use.
My first line of defense is eye cream. It keeps the crow's feet at bay and allows my makeup to glide on. I'm really thankful that I caught on to eye products in my mid twenties because they have become an important part of my beauty regimen. I love they way they feel and what they do for my skin. I only use two products: a cream at bedtime and a serum in the morning.
For years I didn't even use a product in the morning because it inevitably seeped into my eyes, making them blurry and irritated. Then I discovered this. I roll it on under and around my eyes, wait a couple minutes for it to soak in, and apply my makeup as usual. It firms, brightens and depuffs as promised. I hope they never quit making it.
Like face creams, I've used a million different eye products at night. This is the one I'm loving right now. I apply it every night before bed and instantly feel it cooling and tightening my whole eye area. I would buy it in a hot second...assuming it was at a discount. Eye creams are a common sample I get and last a long time, so I don't have to purchase them often.
One that I have bought and loved was Burt's Bees Radiance Eye Creme. This stuff is awesome. I would definitely buy it again. Plus, it's available at most stores. That's if I ever get through my stack of eye product samples.
Since the eyebrows are your picture frames to the world, I'll talk about them next. I just made that up. Pretty profound though, eh? My brows went neglected during my twenties. Brow products simply weren't a part of my beauty regimen for some unknown reason. Nowadays, if I'm limited on time and can only do a couple of things, it's my brows and my lashes. I can't imagine not attending to them. I've used pencils before but didn't ever feel like I obtained a natural look; so I avoid them completely.
I stumbled across this on Sephora.com a couple years ago and thought I'd give it a go. This product was really what prompted me to start filling in my brows. It's in pen form, so you literally color them in. It looks a lot like brown watercolor going on, but can build in intensity. Because of that, they only offer it in two shades. I really like this product and still use it occasionally because of its convenience. Once that pen runs out, I probably won't buy it again. My only gripe is the size and price. For twenty bucks, I could buy several brow pencils that last for months, if not years. Yet this only lasts about 4 weeks. I couldn't justify spending that much every month just to color my brows. So I moved on. If you don't mind that aspect, buy it. It's a great product and it got me on the brow grooming train. Choo! Choo!
Because I knew I didn't like brow pencils, I sought out powders. I came across this one and decided to try it. It's awesome! I bought it from Sephora (it's basically my beauty crack den), and got their brow brush at the same time because the one that comes with it is tiny and stiff. I'm glad I did. It only cost $7 and will last forever.
I've been using this powder for about a year and have barely made a dent. A little goes a long way! I love the double-ended nature of the brush and usually shape my brows with the brush end then apply the powder with the other. I couldn't believe I found a winner on my first try. If they ever stop making this, I'll be completely lost.
I was in search of a clear mascara to keep my brows shaped all day. I found this stuff by E.L.F. and decided to give it a go. I read a bunch of reviews because I thought it couldn't be that great if it only cost a buck. Isn't that terrible? This day in age we wonder what is wrong with something if it doesn't cost a lot. Well, high price and quality don't always go hand in hand. This little beauty is proof of that. It is double ended but both sides contain the same clear gel. One is labeled for eyelashes, the other for eyebrows. I use up one side and switch to the other. Sure, it only lasts about 6 weeks...but did I mention it costs a buck? Sometimes a little brow powder gets on the wand and mixed into the gel, so I wouldn't want to keep a full tube for months at a time. You can find it at any Target. For a buck.
One of the biggest lessons I've learned is to use good makeup brushes. For most of my twenties, I only used the cheap little sponge eyeshadow applicators from the drugstore, but often hated the smeary-looking results. Prices can vary tremendously based on the brand and materials used (i.e. real hair/fur vs. synthetic bristles). I don't want or need real animal hair, so I opt for synthetic. They are just as lovely and much cheaper. I'd love a butler most days, but don't need a mink applying my makeup. Here are my favorites:
I own several of the Sephora brushes. At around $10-$15 each, they are pretty inexpensive. I take care of them and clean them regularly when I'm not feeling lazy (aka I'm back on coffee), so they should last until I no longer care how I look and stop wearing makeup all together. Hopefully that is 75 years from now. EcoTools makes this great earth-friendly set of brushes. I first heard about them on Alicia Silverstone's website,
The Kind Life
, and decided to buy them. I'm so glad I did. They are soft as can be and well made. I will have these until I'm old and wrinkly. Which I also hope is at least 75 years away.
If I'm wearing eyeshadow, I'm wearing lid primer. Period. I struggled with disappearing shadow and creasing for most of my adult life. Then I stumbled upon the wonder that is eyeshadow primer. It is fantastic. If I'm going to go to all the effort to get pretty, why have in melt off in mere hours? I only use one kind and this is it:
Urban Decay Eyeshadow Primer Potion
I don't love the price, but I love the results. A little goes a looong way, though, so one tube is going 1+ years strong.
This brings me to eyeshadow. There a gazillion of them out there. My biggest issues with most drugstore brands are a) the lack of pigment, and b) the lack of glidiness. I made up that last word. I just mean that they aren't as blendable as really good brands. It goes on one spot and doesn't move. I've had it happen to me a million times and had to end up washing it off and starting over. This is not to say that some expensive brands don't do the same, I just happen to find that this occurs more frequently with cheaper products. Plus, I like to sample them, and I can't do that at Target. I like to stick my finger in it and rub it around on the back of my hand to get a feel for its texture and color. When it comes to eyeshadow, in my experience, you get what you pay for. That is not to say that I blow $20+ on a single eyeshadow very often. Quite the opposite. Because they cost a pretty penny, I'm more selective about what I buy. I always stop to consider whether or not I already have something like it, if I will wear it very often, and whether the product is worth its price. I don't do that at a drugstore and can easily spend $20 on four eyeshadows I end up hating. As a result, I have fewer eyeshadows at my disposal, but I like every one of them. Also, the high quality of pigment allows me to use much less. I haven't used up an eyeshadow yet. I did break one once and had to replace it. But not before trying to repress it into the compact using rubbing alcohol and instructions I found off the internet. See, I am frugal. Please don't think that my high makeup expectations indicate otherwise.
I bought this duo about a month ago after lusting after it for a while. This is why:
Now, the fact that we have a completely different ethnicity, skin type, and overall coloring is not lost on me. But she is easy breezy.
I
want to be easy breezy. This eyeshadow makes her teeth white, her hair thick, and she's laughing. It must be mine. That eyeshadow must surely be what got her invited to a party.
I
want to go to a party. I took to the internet to find out what colors she is wearing and discovered this duo. I like it! Sure, it doesn't look the same on me, but it looks good. It's soft, blendable and highly pigmented. The first time I wore it, I had a conversation with my husband that sounded something like this:
"Is that new eye shadow? I can't tell if I like it. It's that color that deli meat gets when it starts to get slimy. Roast beef in particular. No, I think I like it. Yeah."
He sure knows how to make a girl feel pretty. Don't listen to him.

I have become a big fan of baked trios and...quartets? Thruples and quaples? Oh, who knows. I'm also glad that they are baked, not fried, because I'm watching my weight. Go up. They make blending so easy and my makeup looks multifaceted and professional. I'm neither of those things. These are the three I use on a regular basis. I'll even use one of them for a week straight. With the Stila baked trios, I usually use the two outside colors and blend in just a dab of the deeper middle color for more impact. If I'm going minimal, I don't use the middle color at all. The Smashbox one is pretty neutral, so I just swirl my brush around in it and apply. Simple.
Nars makes beautiful eyeshadows. They are soft, creamy and super blendable. I own these two colors and they are perfect for day or night. I also have another color, Night Clubbing, which is black with pearl flecks. It only comes out on special occasions. Like a NASCAR race or a pig roast. I use an eyeshadow brush and apply one color over my whole lid. Cyprus was the one that broke and needed replacing, but I've had Ashes to Ashes for years. I highly recommend these.
Here is my two cents regarding Bare Minerals: They make beautiful colors and their products are really high quality. I don't have any experience with their face products, but their eyeshadows can be a hassle to apply. These are the two I own. I love the colors, but no matter how hard I try, I end up with pigment and sparkles all over my face. I tap, tap, tap to get off the excess and even put a Kleenex under my eyes to catch falloff, but I find it on my forehead, cheeks, and even chest. What a pain. But I love them so! What is a girl to do? It is very likely that I don't have the process down. Because I like them so much, I just apply them
before
the rest of my makeup so that I can wipe it off my face and not ruin my foundation and blush. I also own one of their
liner shadows
and like it. I wet it, though, so it doesn't get all over the place. I can see why people would love these so much if they have a good grasp on the application process. I just like my makeup to require less effort.
I wanted to include an eyeshadow for those times when I want to be
really
fancy. Buxom brand is made by Bare Escentuals, but they don't really advertise that fact. I own this actual color. It is a very,
very
highly pigmented cream shadow that goes on smooth, blends well, and dries to a perfect finish that stays put. All night. A little goes a long way, so I build the intensity gradually so that I don't enter hooker territory. Good stuff.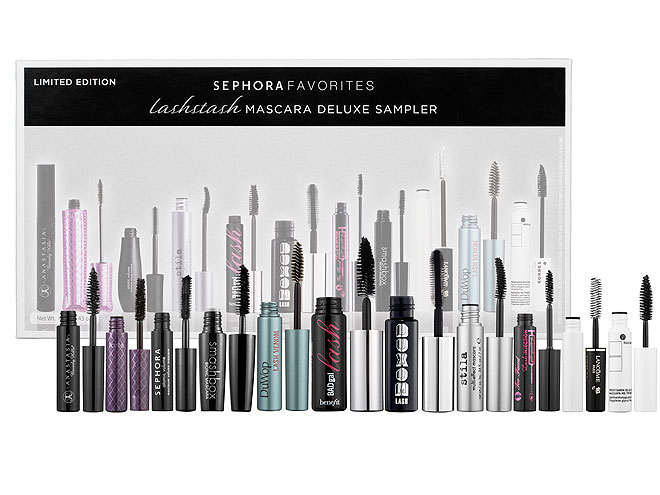 I've probably tried all these and more.
I have tried so many mascaras that I've lost count. Between the ones I've purchased and the numerous samples I've received, it must be in the dozens. In my humble opinion, there is no significant difference between $20+ designer and $5 drugstore mascaras. I've had duds at both price points. Therefore, I have a hard and fast rule about spending more than 5 bucks for a tube of mascara. I have terrible eye allergies, so I have to swap tubes more frequently than most. I can't imagine dropping more than a five spot a month for mascara. I am actually of the opinion that fancy mascaras are the biggest ripoff in the beauty industry. That's just me. For years I used a Max Factor mascara and loved it. I ordered it in bulk. A couple years ago, Max Factor stopped selling in the States. After a few more lackluster mascaras, I came across this one:
I've seen this at Walgreens and at an airport convenience store, but I'm not sure it's readily available. I was searching for a new mascara on Drugstore.com and went with this one because it had the best reviews. It's the only one I use anymore. I keep the deluxe samples in my purse as a backup, but otherwise use this exclusively. Drugstore.com frequently has coupons, so I usually get them for about $3.50 a pop. It's good stuff...no clumps!
I'm done. Finally. I am sure you are thinking,
"Simple. Pffft. Yeah right."
I swear I haven't blown my kid's college fund on eye color. Sure, he may have to settle for a community college, but hey, his mother will look
so
lovely on parent's day. I kid. Since investing in a few nice products, my beauty regimen has simplified and I get a ton of compliments on my makeup. I'm always surprised by that because my ultimate goal is to look put together without looking made up. I think I've accomplished that. What are your eye faves? Share. Please.