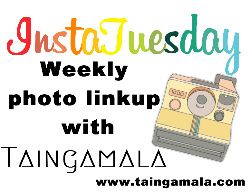 Upon compiling my pics for this week's Insta Tuesday, I realized it is a bit of a hodge-podge. My week kinda felt that way, too. Here's the past week...in moments of time.
These were all taken on Saturday: Pumpkin Festival!
Clockwise from top left:
Every year our town celebrates Pumpkin Fest, where we vie for the World Record for most lit jack o' lanterns at one time. The town last won in 2003 but have since lost the title. This year we had over 29,000. It is so fun to walk up and down Main Street after dark and look at all the cool carved pumpkins glittering in the night.
The giant scaffolding they put up in center square every year. It's topped off with a giant jack 'o lantern.
This little beauty was sitting on my trunk after lunch with Husband. Isn't it lovely...especially against the stark silver background?
My son started at a charter school this year. Charter for us means amazing, but also underfunded. Underfunded means TONS of fundraising. Every year they do a food tent at Pumpkin Fest. My husband and I helped make and bake 40 of these roasting pans full of apple crisp on Friday night. Yeah, we have a rocking social life.
This is what the last week has looked like for the most part. It seems like I coast by for a few days, start feeling pretty together, and the boom drops. Welcome to this week. I was feeling frisky that particular day and ordered a decaf soy coffee light frappuccino. Whoa, Nelly!
My husband picked me up between classes for a quick lunch date. When I looked down, I noticed he had folded his socks over. "I couldn't find any ankle socks!" was his reasoning. He was just a scrunchy shy of 1992.
Kiddo dinked around all evening and ran short on time. We have him pack his own lunch most days since he's getting older and needs to learn some independence. This is what he came up with. I can't decided if he's resourceful or just lazy.
Making a weird face in Costco. I got a few rare hours to myself and decided made the one hour drive to Costco, Trader Joe's and Sephora. I couldn't let my free birthday lip duo go uncollected! Costco was on fire with the samples that day, too. I was almost able to ignore all the people who stopped in the middle of crowded aisles and abandoned their carts for said samples; leaving the rest of us trapped behind them. P.S. After seeing this picture blown up, I'm regretting the fact that I didn't load up on more eye cream. Holy bags, Batman!