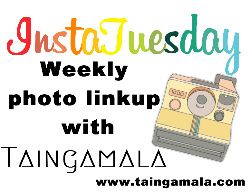 What a week! But I made it, and now I'm one week closer to bidding this semester farewell. A winter break is much needed. The three day weekend was lovely, but a mandatory Saturday field trip for one of my classes cut into it a bit. Let's just say their was a vintage school bus involved. You'll see. Husband is in France...so Kiddo and I are holding down the fort.
No sleeping in this past Saturday. Instead, I was meeting my class at 8a to take this beauty down to Boston to visit the Harvard Museum of Comparative Zoology. It's actually a really cool place (they have some of Darwin's original specimens!), but we had a 14-page assignment to complete...so I didn't get to enjoy it the way I normally would. We are definitely going back one of these days!
1. The color exhibit was extraordinary! 2. Some of the exhibits were a bit, um, vintage. This monkey looked like he went through the wash a few too many times. Kiddo and I got a laugh out of the weird taxidermy smile and bald tail. 3. Bessie got us there and back in one piece...and my motion sickness didn't get the best of me. 4. Remember these weird seat patches? There were patches on top on patches in this bad boy.
5. Kiddo will put anything on a toaster waffle. Yesterday he created this tasty treat. Yum... 6. It's official. My cat can read. 7. It's totally normal to have a random chicken chase your car through a parking lot...right? 8. Sometimes ramen noodles hit the spot. This was the only thing that satisfied my grouchy stomach on Sunday.