I have always been attracted to spots and stripes. As long as they are funky and interesting. Apparently polka dots are back on trend . . . and I couldn't be happier. In fact, J. Crew's late summer/early fall campaign is centered around them. The prices make me a little sad, but I'm excited to hunt down some more affordable, equally awesome pieces.
I love this sweater! The contrasting colors, the buttons in the back . . .
love
. My favorite is this 'cabernet fuchsia' color, but the 'dusk black' and 'green atlantic' colors are close seconds. And casmere? Heaven.
Boden is my clothing mecca. Their prints are insane and right up my alley taste-wise. I don't think there is anything of theirs I would refuse to wear. Unfortunately, their prices are not exactly budget-friendly, so I am selective and only buy clearance items . . . which usually means my favorite items are gone by the time I get to them. At this point in my life, I wouldn't feel right spending $150 on a skirt. Can't do it. My goal as a future professional is to wear Boden clothing on a regular basis. Then I would consider a few nicer pieces to be an investment.
Polka dots are one of Boden's staples. I love these swimsuits! I have never been fortunate enough to look good or feel comfortable in a bikini, so I get excited when I find cute, comfortable, flattering and stylish one piece suits that don't look like they were made for a ninety year old. These two caught my eye immediately.
I love this jacket! It's cute and unique and it must be mine. And
score!
, it's a Target find. I have bigger, more muscular arms (no matter how skinny I am), so I often have trouble finding fitted jackets where the sleeve/shoulder area isn't too snug. When I find one that fits just right, it's sooo worth it. The good thing about Target (and a few other retailers) is that I can order it online and return it at a store. Return shipping is my kryptonite.
I'd be remiss if I didn't mention this other Boden favorite. This bubbly trench with contrast stitching is awesome. The Target one is much more economical, but this jacket should last a lifetime.
I'm a T-shirt kind of gal. I like to be comfy and casual, but not too casual. That's why I love shirts like this one from Gap. It's a casual outfit but still looks put together, and the textured dots make it more than just a plain old tee. Now if only I could get her hips . . .
I've become a big fan of Chuck Taylor All Star sneakers. Most people latch on to them in their youth, but my appreciation never truly developed until adulthood. They go with everything. One day I'll have to trade them in for more grown-up everyday shoes, but they will always be a staple in my wardrobe. Imagine my delight upon seeing these little gems. Polka dot All Stars? Were they made just for me?
Shazam!
I came across these scarves on Amazon. They are darling! I love how the density of the dots varies from one end to the other. My scarf collection is seriously out of control . . . but I don't care. They are hands down my favorite and most worn accessory.
I'm addicted to these sheets! Garnet Hill makes some great bedding . . . at a price. However, they offer specials and clearance options that make them an affordable buy (BOGO pillows!). The quality is awesome and so is their customer service.
That being said, I would never pay full price, no matter how much I love a set of sheets. There are great ones out there that won't break the bank. I simply can't fathom having to worry about tearing, bleaching, or staining a set of sheets. Sheets, in my mind, are not an investment. Cashmere sweater? Yes. Sheets? No way, José.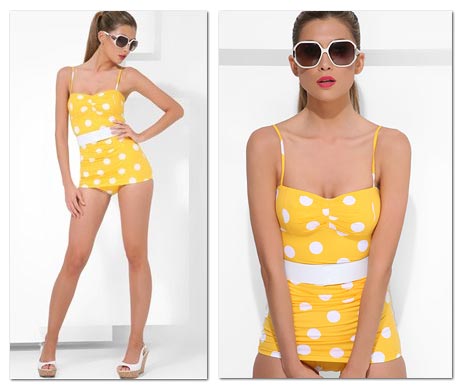 Much to my dismay, I've never been destined for an itsy bitsy teeny weeny yellow polka dot bikini. Good thing I have options. A polka dot parka? You betcha! Spot ya later.